I've written before about EuroVis, the most important European scientific conference on visualisation. In 2009, it took place in Berlin, in 2010 it was in Bordeaux, and, an a surprise non-twist of alliteration, the 2011 edition was held in Bergen, Norway. With 216 attendees and a practically perfect organization, this year's edition has been described as the biggest and the best EuroVis ever. In a bid to save some time (I still owe you a mega-edition of the Weekly (actually Monthly) Head Voices), I'm going to give my biased account in bullet-list form: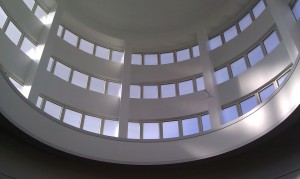 Art Deco tower from the inside in the Tårnsalen, Lysverket.
As per usual, I get to award the Weekly Head Voices Best Paper awards, and they go to the following papers:
The slightly less prestigious EuroVis 2011 Best Paper awards went to:
Uncertainty-Aware Exploration of Continuous Parameter Spaces Using Multivariate Prediction  by Wolfgang Berger, Harald Piringer, Peter Filzmoser, Eduard Gröller. I was unfortunately in the other session, but was told by numerous colleagues that this was indeed an award-winning presentation as well.
A User Study of Visualization Effectiveness Using EEG and Cognitive Load by Erik Anderson, Kristin Potter, Laura Matzen, Jason Shepherd, Gilbert Preston, Claudio Silva. This was presented in the Evaluation session which I had the privilege of chairing. It is indeed a very compelling idea to measure the effectiveness of a visualisation through cognitive load and this paper documents the first very important steps in this direction.
A Gradient-Based Comparison Measure for Visual Analysis of Multifield Data by Suthambhara Nagaraj, Vijay Natarajan and Ravi S. Nanjundiah. This was also amongst the more prestigious WHV best paper award winners, see above!
The rest of the conference featured the following bullets:
That thought-provoking capstone and this blog post will share the same concluding quote:
Doubt is not a pleasant condition, but certainty is absurd. — Voltaire / Gröller
I hope to see you in the comments below! You could also opt to click on my shiny new +1 button, or my slightly older but no less shiny retweet or facebook share buttons.