Ubuntu, my personal favourite Linux distribution, has recently released version 14.04 LTS. LTS stands for Long Term Support: LTS releases are supported for 5 years, meaning that with 14.04 you are covered until 2019.
Trusty Tahr, as 14.04 is known, is beautiful, functional and still free.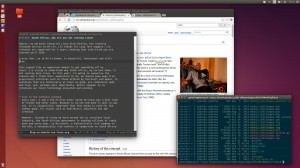 Ubuntu means "humanity to others". It also means pretty desktop!
This seemed like an opportune moment to get something off my chest. I'm trying to understand why South Africa, my current home, is not running more Linux. In this post, I'm going to summarise the reasons why I think that, especially in SA, we should move away from proprietary solutions such as those offered by Microsoft and Apple, to solutions that are technically at least as good, are completely open and free, and, perhaps most importantly, better empower us to stimulate our local technology ecosystem and the national economy.