I recently came across this hauntingly beatiful time-lapse view of Earth made from the ISS (the International Space Station! Yes, we have one!):
Watching this, my nostalgia flared up. You see, I've been addicted to science fiction ever since I can remember. It started with Buck Rogers, and the original Star Trek, and only got much worse when I discovered Arthur C. Clarke, Ray Bradbury, Isaac Asimov and Douglas Hill. I find Kubrick's 2001 and even the sequel movie 2010 beautiful.
For the longest time, I wanted to be an astronaut. I think I still do.
I believe I might have thought that my career plans would be seen as childish when I wrote this short piece for school detailing my life plans when I was 7 or 8 (late eighties, not saying anymore):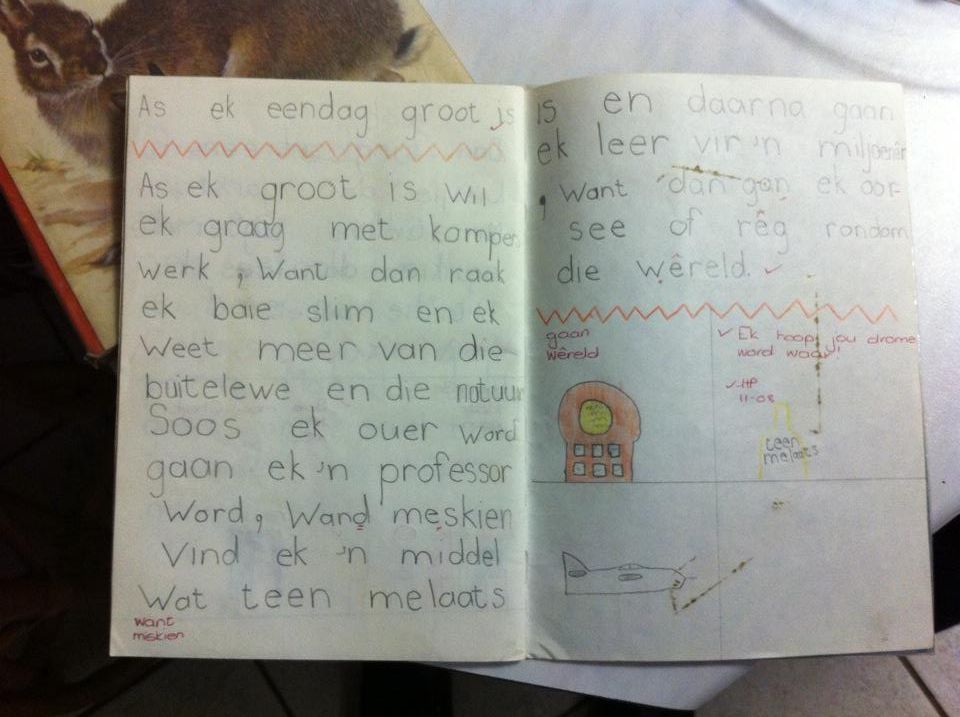 For those of you without the required Afrikaans background, here is a short translation, as true as possible to the original:
When I gow up, I'd like to work with computers, because then I'll become really smart and I'll know more about the outdoors and nature. As I grow older, I'll become a professor, because perhaps I'll find a cure for leprosy and after that I'm going to study to be a millionaire, because then I'll go abroad or around the world.
Not a bad plan for a 7 or 8 year old, if you don't mind me saying so myself. This note has in fact reminded me that there's still more than enough decisions to be made and work to do, so I'll have to postpone becoming an astronaut for a little while longer. At least by the end I'm going to end up a rich traveller, which is probably not a bad deal.
In other news this week:
If this new bill manages to make it through the constitutional court as well, the country is going to take a giant step backwards. At least we'll have facedrink to cheer us up again!